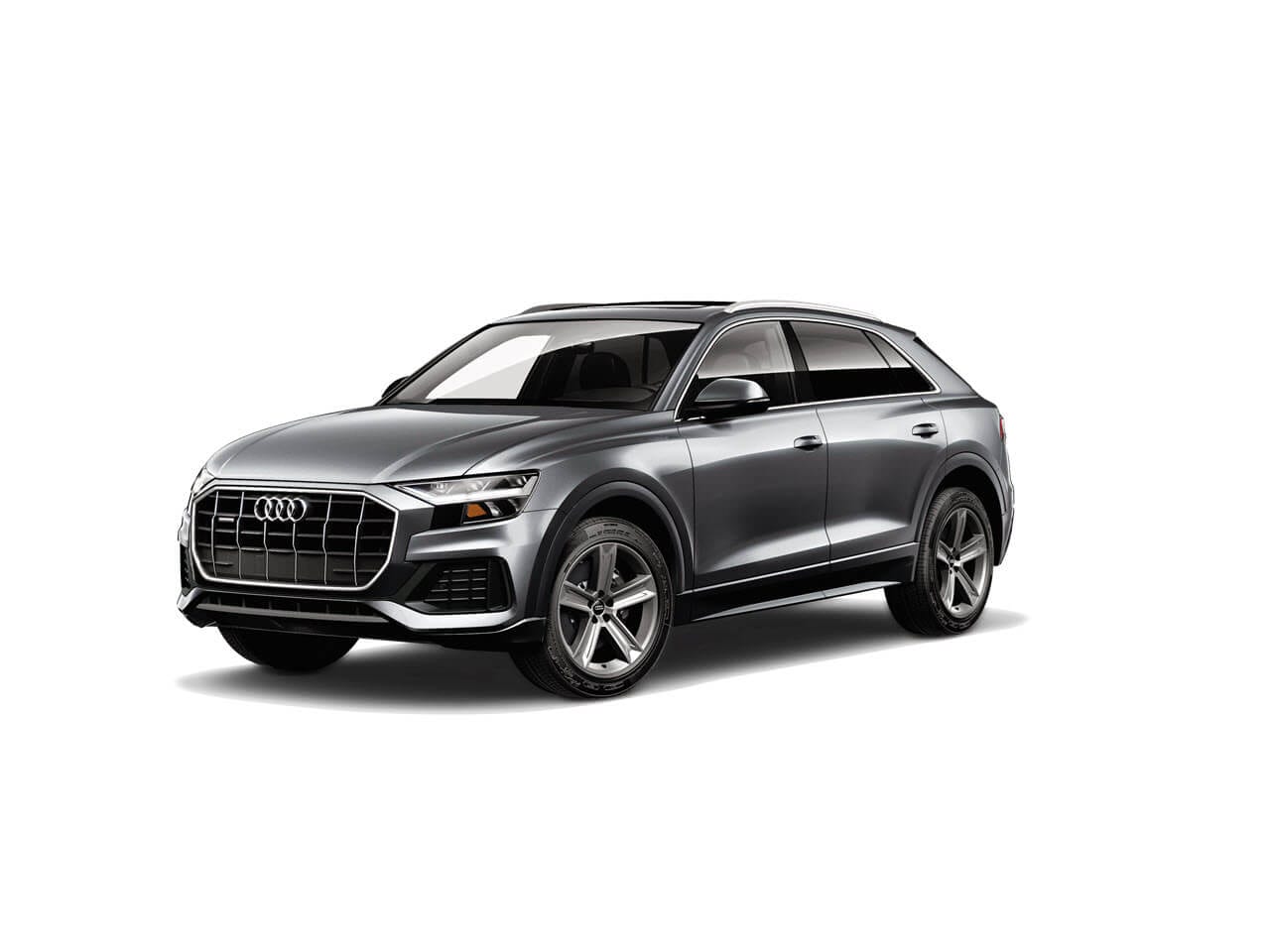 With a head-turning design, reliable performance, and long list of features, the new Audi Q8 will surely impress drivers throughout Miami, Hollywood, and Miami Beach.
The vehicle will arrive at dealerships this fall and will be here before you know it. However, you can learn all about it now in this 2019 Audi Q8 preview. Discover what this SUV will offer and contact us at Audi North Miami if you have any questions!
Standout Exterior & Interior Design
With enormous 22-inch wheels, an octagonal Singleframe® grille, and a gold body color, the new Q8 is quite stylish and adventurous-looking.
Plus, the 2019 Audi interior is getting an all-new look. There will be great visibility from the driver's seat, and this even extends to the back where the rear windshield will drop dramatically to create the coupe-like look that Audi was going for.
The cabin will be extremely quiet thanks to a double-layer windshield and acoustic windows. Five passengers will enjoy how spacious the vehicle is as it'll have plenty of headroom and legroom in both rows.
Audi Q8 Performance Specs
Drivers can get excited for the 2019 Q8 as it will be sporty and very fun to drive. Plus, it'll come with a range of engine options. For instance, it's expected to offer a 3.0L V6 engine that'll have Audi Q8 power ratings of 335 horsepower and 369 lb-ft of torque.
This will also be the first Audi SUV to have an engine mated to mild-hybrid technology. It'll integrate a lithium-ion battery and a belt alternator starter in a 48-volt electrical system. When the vehicle brakes, this system will be able to recover up to 12 kW of energy.
Furthermore, the vehicle will come standard with quattro® all-wheel drive. It'll have a mechanical center differential that will automatically split torque 40/60 from the front to the rear wheels. Not only can you easily drive during any weather conditions, but the ground clearance of up to 10 inches means you can drive the Q8 on even the hilliest of terrain.
Cutting-Edge Technologies
The sleek and clean design of the new Audi model is accentuated by dual touchscreens. The lower screen will display the heating and cooling systems as well as be a writing surface for the navigation system. The upper screen, meanwhile, will display all your media options like music and phone settings.
The vehicle will also have a new voice control. What's great about this feature is that rather than speaking a command, you can talk as if you were having a normal conversation. For example, if the cabin is too cold, you can press the voice control button on the steering wheel and say, "It's getting chilly." It'll then ask what temperature you want the air conditioning at and will change it for you. Also, if you say, "I'm hungry," the Q8 suggests nearby restaurants that you may like. This way, you can satisfy your craving for ceviche no matter where you're traveling.
Learn More About the 2019 Audi Q8
As you can see, this new Audi SUV is expected to be a hot commodity when it arrives at dealerships this fall. In the meantime, you can contact us at Audi North Miami to get up-to-the-minute updates on the new Audi Q8. Then, when it gets to our dealership near Miami, Hollywood, and Miami Beach, you can be one of the first to test drive it.
Don't wait-contact us for more information on the 2019 Audi Q8 today!