There comes a point in every driver's life that they need a repair performed on their car. When you're in need of an oil change, brake check, or transmission repair, let our team at Audi North Miami be there to provide quick and efficient service. This way, you'll be cruising around North Miami Beach, Florida, in little to no time.
If you're in need of an auto repair, don't wait. Instead, visit our auto repair center. Keep reading to see all the services we can provide and contact us with any questions!
Our Auto Repair Center
Have you noticed your car shaking when you're driving around? We can help with that as well. No matter what you're in need of, our team is here to help. Some of the repair services we provide include:Staffed by a team of expert technicians, our North Miami Beach, FL, auto repair center is capable of providing all types of service. Has it been a couple thousand miles since your last oil change? Not a problem for our team. We can have that done in the blink of an eye.
Wiper blade replacement
Filter changes
Transmission repair
And much more!
As strong believers in providing the North Miami Beach drivers with as much information as possible, we have several online resources available for free. Click through any one of our guides to learn more about the importance of regular service and repairs.
Signs You Need Auto Repair
Fortunately, when it comes to auto repairs, your Audi is pretty good at communicating potential issues. One form of communication is through your dashboard lights.
Each light represents a different part of your car that may not be performing at 100 percent. Some indicator or warning lights you may see alerting you of a problem could be your check engine light, washer fluid level, cooling system, generator, and more. We invite you to read through our informative dashboard light guides to learn more about these lights and what they mean.
Other signs you need auto repair include strange noises or smells, fluid leaks, shaking or vibrating, and more. If you notice any of these signs, don't wait to have it checked by an expert.
Save on your next auto repair with our Audi service specials!
All the Parts You Need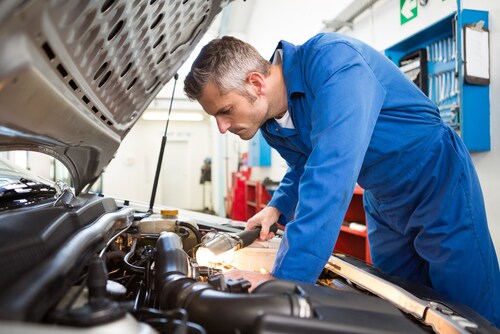 When it comes to auto repairs, our North Miami Beach, Florida, center also is equipped with an on-site parts department. Here, you'll find all the genuine OEM (original equipment management) parts you need to keep your Audi in tip-top shape. Having our parts department on site makes the repair process that much faster.
You can even stop by when you're working on a DIY project too. To get the part(s) you need, simply fill out a parts request form. As soon as we receive the request, our team will get right to work in collecting those for you. As soon as they're ready to get picked up, we'll let you know.
Upon pickup, our team of mechanics will be happy to help you install them to ensure an expert fit every time.
Schedule Your Auto Repair Today
Whether a light let you know something isn't quite right or your wiper blades are worn, our auto repair center near North Miami Beach, FL, is here to help. Thanks to our mechanics' years of experience and strong attention to detail, we can get you cruising around town again in no time at all.
Give our team at Audi  North Miami a call or visit us online to schedule your auto repair today!