The Quattro®: Continually Pushing the Envelope
For years, the Quattro® has pushed the envelope of the auto industry, continually making waves in terms of reliability and in various weather circumstances. Thirty-give years ago, the Quattro became the first permanent all-wheel drive system for vehicles. Now, it's still as strong and consistent as ever before.
What Is Audi Quattro®?
Audi Quattro® is a statement in reliability and security. It's a statement about innovation. It's a vehicle which repeatedly sets the pace for what all-wheel drive vehicles should be doing and providing their drivers.
By utilizing all-wheel drive technology, you will always have the best traction in inclement weather.
On top of this, the Quattro® is designed with the consumer in mind, providing a sleek exterior, a spacious, comfortable interior, and some incredible cutting-edge features for the driver.
Customized for Each Vehicle
The other important feature of the Quattro® is the fact that the all-wheel drive feature is customized for each vehicle.
Unlike other all-wheel drive systems, Audi ensures that these systems are personalized to each vehicle they are attached to, tailoring the system to each vehicle's needs and purpose. Doing this enhances the performance of your Audi vehicle, and also provides better traction benefits.
These benefits aren't designed just for wet-weather conditions, but also for enhancing dry-weather handling and cornering performance.
Interested In Finding Out More About The Quattro®?
If you are interested in the Quattro® and its features, we would be more than happy to discuss it with you in further detail! Our team at Audi North Miami wants to make sure you have the most information possible. That's why we are more than happy to answer any questions you have in detail.
Stop by our dealership in North Miami Beach, FL, and we will help you with anything you need!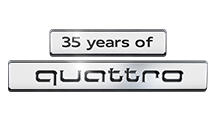 Contact Our Team