Many modern vehicles are equipped with a tire pressure monitoring system (TPMS) that'll alert you to a tire being low on air. When that happens in your Audi, you'll need to fill the tire with air as soon as possible.
However, the job isn't done, as you'll also need to perform an Audi TPMS reset, so the system can continue to monitor your tires correctly.
Our team at Audi North Miami will tell you exactly how to perform this procedure. Then, after reading this guide, contact our dealership if you need any type of tire service near Miami, Hollywood, or Miami Beach.
Steps to Reset the Audi TPMS
Before you can reset the Audi TPMS, you'll need to make sure every tire is properly inflated. Once that's done, you can complete the following steps...
Turn the ignition on.
Press the car function button on the MMI® control panel and select the (Car) Systems control button.
Select Servicing and checks.
Then, select Tire pressure monitoring.
Click on Store tire pressures.
Select Yes, store now.
After the system has been reset, the tire pressure indicator light should turn off. If it doesn't, then there's a system malfunction. It may also not work properly if there's a malfunction with the Electronic Stability Control system. Either way, it'll need to be addressed by a service technician as soon as possible.
Why Does the Audi TPMS Light Turn On?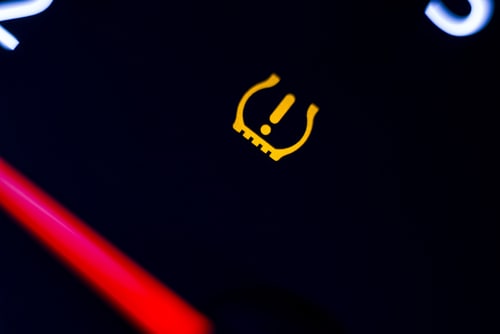 You may be wondering why the tire pressure light appears on your Audi dashboard in the first place. This could be for several reasons, such as:

One or more tires is low on pressure.
A tire was replaced or tire pressure was changed, and the system was not stored (i.e., reset).
One of the tires has structural damage.
A spare tire has been installed.
If one tire is low on pressure, the TPMS will tell you which one is affected. Then, you'll need to fill it with air as soon as you can to continue traveling safely around town.
Stop by your nearest gas station and grab your tire pressure gauge. Check your vehicle's driver's side doorjamb for the appropriate PSI (pounds per square inch). Use the gauge to see what the current PSI is on the affected tire, then fill it with air until it reaches that number.
Importance of Having Properly Inflated Tires
If any of your tires are low on air, it's vital to fill them right away. Otherwise, you could compromise your safety on the road.
When tires are underinflated, it can increase the sidewall temperature of the tires, which could cause a dangerous tire blowout. Tires that are low on air can also provide less responsive steering and handling and may even affect braking distance. All these factors could lead to an accident, so the tires should be filled to avoid such a situation.
You may think that filling the tires over the recommended PSI might be better. That way, it may take longer for them to lose air.
However, having overinflated tires is just as dangerous as having underinflated tires. You could have a rougher ride and increased tire wear. Decreased fuel efficiency and increased emissions are also likely.
So, check your tire pressure once a month and set it to the appropriate PSI-no more, no less.
Schedule Service for Your Audi Today!
If you have any questions about your tire pressuring monitoring system or need help resetting the Audi TPMS, then contact the Audi North Miami Service Center.
Our technicians are experts in all things Audi, including this useful monitoring system. Therefore, they can get it working again and have you back on the roads of Miami, Hollywood, and Miami Beach in no time.