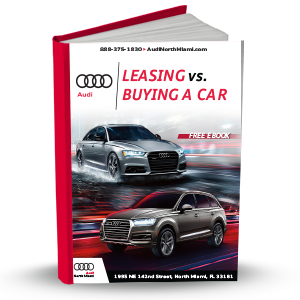 When getting a new car near Miami, Miami Beach, or Hollywood, there are many things you'll need to keep in mind. The most obvious is deciding which car you want, and that's done through research and test drives. However, you also need to consider whether leasing or buying is right for you.
To help with that decision, we here at Audi North Miami created the Leasing vs. Buying a Car eBook. In this detailed guide, you'll learn:
How auto loans work
What a car lease is
Pros and cons of buying or leasing a car
By the end, you'll be able to decide which option is best for your needs. Not only that, but you'll also get a money-saving offer to use at our dealership.
If you're not sure whether you should buy or lease your next car, then download our Leasing vs. Buying a Car eBook. Fill out the short form, and get your FREE copy today!