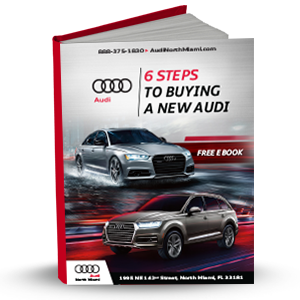 If you think the time has come to purchase a New Audi for yourself, then you'll want to take a look at this helpful 6 Steps to Buying a New Audi eBook. Inside, you'll learn: 
Evaluate your needs 
Do your research 
Locate the right Audi dealership 
Schedule a test drive 
Consider your financing options 
Customize your new Audi 
...and Receive a MONEY-SAVING coupon! 
At Audi North Miami, we're all about making the car buying process as simple as we can for our customers. And with this FREE eBook, you shouldn't have any trouble breezing through your purchase. Download today to get started!