When you live in the Miami, Miami Beach, and Hollywood areas, not only do you get to enjoy the standard seasons, you also get a bonus: hurricane season.
Granted, there's nothing fun about hurricane season. As a matter of fact, if you're in the path of a particularly potent storm, it can leave your car in total disrepair.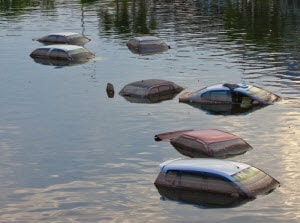 If your car has suffered damage from flooding, you're going to need a skilled hand to restore it to its former glory. In this case, the Audi North Miami team is here to help with flooded car repair.
Schedule a service appointment now.
How Do You Know If Your Car Has Suffered Flood Damage?
Ultimately, when the weather is as extreme as it is during a hurricane, you can assume that any car that is left in the lurch will sustain at least some water damage. However, if any part of the car becomes flooded, this is especially true.
Cosmetic problems, such as stains, tears, dents, etc., are fairly easy fixes. It's when the engine compartment becomes submerged in water that the major issues start to arise.
If your car has been submerged for more than a couple hours, particularly in corrosive salt water, there's a good chance that parts are crucially flooded. If the car was forced to sit in warmer temperatures during flooding, it may have even begun to rust.
To leave these issues unattended post-flooding is a death sentence for a car. If you act quickly, though, they can more than likely be salvaged. This is where our team comes in with flooded car repair services.
Hurricane Damage? Here's How to Fix a Flooded Car
Our North Miami Audi dealership is largely considered to be the very best in all of South Florida. This isn't just because of our expansive inventory or great deals. It's also because of our excellent auto repair service center.
Considering this area gets hammered with terrible storms a couple times a year, we tend to do flooded car repair on a regular basis. So, our skilled auto technicians won't have any trouble rising to the challenge. With the skills and tools they have on their side, they can get your car back up to spec.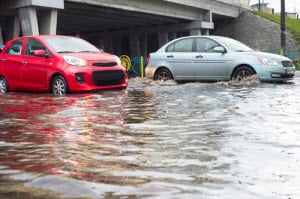 Of course, doing so may require a few parts to be replaced. After all, the powertrain is comprised of a wide number of components, big and small. Flooding may destroy some of these smaller parts individually.
Fortunately, at our North Miami Audi dealership, we also sell plenty of parts and accessories. If your car needs any reconditioning after the flood, we have ample stock to take care of it.
You can make your appointment online or over the phone today, and we'll have it taken care of as soon as possible!
We're Here to Serve the North Miami Community
At our North Miami Audi dealership, our community has always been the number one priority. We've worked hard in the past to provide you with reliable cars, and in the aftermath of a hurricane, we'll work hard to keep them running.
As we're all feeling the effects of Hurricane Irma, we'd like to open our hearts and doors to you. During the recovery process, you can visit our dealership for:
Complimentary refreshments while supplies last
Charging stations for your mobile devices
While all our technicians are on standby to repair the flood damage, you may also find yourself in need of a new vehicle. In which case, you'll want to check out our available inventory of over a thousand vehicles.
During this time, our Audi dealership will be collecting donations for all our valued neighbors in need. To learn more, give us a call or pay us a visit at 142nd and Biscayne in North Miami. We'll be here waiting to help.
The Best Flooded Car Repair in North Miami
When your car sustains flood damage in North Miami, you need to turn to a mechanic you can really trust. Fortunately, our auto repair team is here to serve everyone in the Miami, Miami Beach, and Hollywood areas. As soon as you need service, get in contact with us!