Your tires do a lot more work than you might give them credit for. While you're going about your normal drives around Miami, Hollywood, and Miami Beach, your tire tread is wearing down slowly but surely. That's why it's important to regularly check tire depth. That way, you can always know the status of your tire treads for the safety of you and your loved ones while on the road.
If you're wondering how to check tire treads, our team at Audi North Miami has a few resources right here to see if your tires need to be replaced or just rotated. Continue reading through our informative guide and don't hesitate to contact us if you have any questions!
Why Should I Measure My Tire Tread Depth?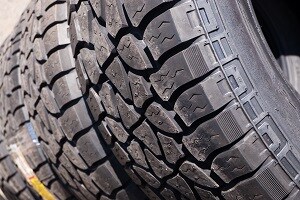 Safety is the number-one reason for measuring your tire tread depth, but what exactly does this mean? Tires consist of many patterns, knobs, and grooves. All of these are in place so that the tires can grip the road as well as accelerate, brake, and go around corners.
When the tread on your tires wears down over time, this causes a balding effect. Parts of your tires may be so worn that the surface starts to become smoother, which means your tires may not hold up in inclement weather conditions or even in general daily driving.
That's why you'll want to regularly measure tire tread depth. Plus, the process to do so is actually much easier than you would think!
How Do I Know if My Tire Tread Is Good?
There are a few ways you can measure your tire tread depth. Tire tread depths measure in 32nds of an inch. If your tires are brand new, they'll measure in at 10/32, or about 1/3 of an inch. If your tires are balding, they'll usually measure at 2/32 of an inch or less. Now, here's how to find out what your tread depth measures:
Time to get your tires replaced? Don't miss our current tire specials.
Penny Test
One of the easiest ways to check tire tread depth is with the penny test. Grab a penny and place it upside down into one of the tire's grooves. If you can see all of Lincoln's head, there's not enough tread and the tires should be replaced as soon as possible.
When conducting this test, be sure to insert the penny into several spots on each tire. Sometimes one tire can wear out before the others, or it can wear out unevenly in general, potentially causing bigger issues down the road.
Tread Wear Indicator & Tread Depth Gauge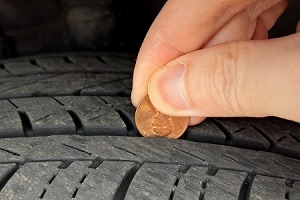 There are other ways to check tire tread. Many tires have a tread wear indicator bar embedded between the tread ribs. If the tread is flushed with those indicator bars, the tires will need to be replaced.
You can also use a tread depth gauge. Stick the gauge into one of the tire's grooves and press it flat against the tread block. If it reads at 2/32 of an inch or lower, you'll have to replace the tire right away.
Signs You Need New Tires
Aside from checking tread depth, there are other ways to determine if you need a new set of tires. For instance, if there are cracks or cuts in the sidewall, the tire is developing a leak. Something else to be aware of are bulges or blisters as those are weak spots that could lead to a tire blowout.
You may feel vibrations in the steering wheel or your seat. This could be the result of a misaligned or unbalanced tire. However, it could also mean the shock absorbers are starting to go. Either way, you'll want to get your tires looked at right away. Even if the tires themselves are fine, the constant vibrations could ultimately damage them.
Where to Get New Tires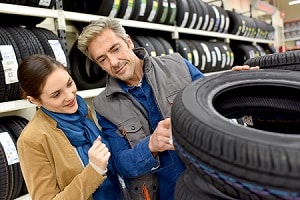 If your Audi needs a new set of tires, be sure to visit our advanced tire center or order tires on our website. Here, you'll find a wide variety of tires to ensure your vehicle will be outfitted with the correct type and size.
We carry all major brands such as:
Bridgestone
Continental
Dunlop
Goodyear
Plus, our expert technicians can install the tires quickly and efficiently. Not only will they fit on your car perfectly, but you'll be back on the road in no time at all.
Furthermore, we have various service and parts specials on our website for your convenience. They can be for anything from tire maintenance and alignment checks to a whole new set of tires. These specials do change from time to time, so you'll want to double check what we're offering before making an appointment.
Schedule Tire Service Today
Whatever issues you may be experiencing with your tires, you'll always find a great tire resource at our Audi dealership. If you have any questions about your tire tread measurement or another maintenance concern, our auto service center at Audi North Miami will be happy to help!
If you live near Miami, Hollywood, and Miami Beach, don't wait. Be sure to schedule a service appointment with one of our trusted auto technicians today!