One of the most important safety features of your vehicle is the braking system, but it's overlooked by many drivers when it comes to car maintenance. It's important to get your brakes checked during your regularly scheduled maintenance appointments, which should be about every six months, to make sure that they're functioning properly and that the parts are in good condition.
If your brakes haven't been changed in a while or if your brakes are showing signs of wear and tear, then it's time for you to head to a mechanic that you trust. At Audi North Miami, our service center is staffed by a team of automotive experts who can handle just about anything your vehicle needs. So, your car can stay healthy for many more trips around Miami, Miami Beach, and Hollywood. Schedule your brake repair appointment easily right here on our website or continue reading and clicking into our educational Brake Guides below to learn more. 
Educational Brake Guides:
4 Signs You Need Brake Repair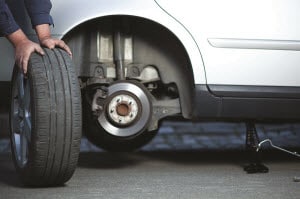 Getting your brakes checked regularly is the best way to prevent any issues with the system, but on occasion, your brakes may let you know that they need some TLC. These signs of trouble should never be ignored, as the issue can worsen and lead to dangerous driving conditions. These are some common signs that you need. Any squealing, squeaking, or grinding noises that occur when you press on your brakes are not a good sign. You may simply need a brake pad replacement, but you could also have a more serious problem, like rusty rotors. Get 'em looked at right away.
1. Warning Lights

Your instrument cluster is home to a variety of different warning lights that can let you know when your car needs to be serviced. Don't ignore them! The ABS light can indicate a problem with your anti-lock braking system, which is essential for bringing your car to a stop on slippery surfaces.

2. Pulling

Your car is designed to naturally drive forward in a pretty straight line. If your car seems to be pulling to one side rather than driving straight forward, your brakes or wheels are likely not adjusted properly. This can be dangerous, and is also likely to continue getting worse.

3. Stubborn Pedal

If your brake pedal becomes difficult to press down, there could be air trapped in your brakes lines. This is a serious issue, so get it checked out as soon as possible.

4. Vibrations

If your steering wheel or brake pedal appear to rattle and vibrate whenever you brake the car, you need to get the system inspected. This is not normal!

Schedule Your Brake Repair Today!
Any of these warning signs is a clear indication that you need to bring your car to a mechanic you trust to make sure that it's safe to drive. Don't take a chance on your safety! If you've noticed that your brakes need to be inspected, or if it's just been a while since your last service, contact Audi North Miami today to schedule an appointment at the service center. We'll get you back on the streets of Miami, Miami Beach, and Hollywood in no time.